Blogging and its Benefits to Small Business
Most business owners don't consider blogging as part of their marketing strategy. Blogging seems like something done by trendy twenty-somethings about their travels to Paris and Rome, it doesn't seem like something that can actually produce traffic, and sales, at a business level. Creating a highly developed website is a key component in establishing a comprehensive online marketing and branding strategy, because of the dynamic nature of business, it is advantageous to go further. In our social media post today, we discussed blogging on websites, and alluded to the fact that more people find, and buy, from a website with a blog. Here's more information on that.
Blogging is an inexpensive way for small businesses to drive traffic to their site, enhance inbound marketing efforts, and attract more perspective customers. According to a recent inbound marketing report, nearly 80% of companies that use blogging as a part of their marketing strategy reported acquiring customers through their blogging efforts. Here are more benefits of including a blog on your small business website.
The SEO Boost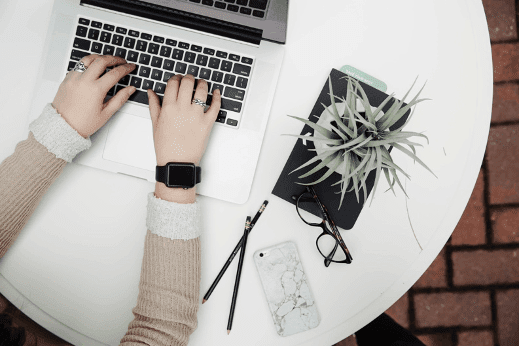 Earlier in the week, we talked about SEO and its benefits. All the major search engines love fresh, relevant content and blogging is one of the most straightforward and inexpensive methods for a business to create this. When a business creates a blog on their website, and posts consistently, they are providing Google with fresh content to index. This is also an opportunity for businesses to insert those relevant keywords that consumers will use to search for the types of services or products that your business offers. Your blog can go in depth about the flavours of doughnuts you have, for example. If you sell clothes, you can do a weekly blog on how to style your most favourite styles.
Develop and Strengthen Relationships with Existing and New Customers
Customer engagement is an immensely important element of online marketing and branding. Blogging provides the opportunity for you to connect with your existing and potential customers in a different, more conversational way. Blogging is a good way to build trust with your target audience through high quality content that they find relevant. With an active comment section, you will be able to follow the visitors' responses to your posts, and you will be able to respond directly to their comments, which is huge in building trust and relationships.
Make your Business a Leader in your Industry
It doesn't matter how small your business is, blogging is a good way for your business to build trust and establish clout in your industry. By providing content that will be viewed as valuable, expert information, your potential customers get to see the knowledge and experience that you have gained in your field.
Create Opportunities for Sharing
One of the most powerful benefits of blogging is the opportunity it creates for others to share the link to your blog. This creates the potential for viral traffic and exponential market growth. With so many different sharing platforms available, visitors can share the direct link to the blog, tweet it, or email it to a friend. This is the epitome of free marketing.
In Summary
If you are interested in increasing your online exposure, while establishing yourself as an expert in your industry, then you will definitely want to take advantage of blogging as a marketing strategy. When it comes to small business, blogging is virtually a must. If you don't have the time, resources, or expertise to write blog content, Cansoft Technologies has a team of experts on the topic. We can create exciting, unique, and informative content monthly to help drive your traffic. Check out our website here!